In the history of LCK in general and SKT T1/T1 in particular, there are many names that have become the definition of success in the roles of a League of Legends team. For example, when talking about the Jungle – Mid Lane pair, it must definitely be Faker – Bengi or when talking about Top Lane assists, it is impossible not to mention the legendary captain MaRin… But of course, associated with 2 years of success of SKT T1, helping them become the first and only team to date in League of Legends to defend the championship, not to mention Super ADC Bang.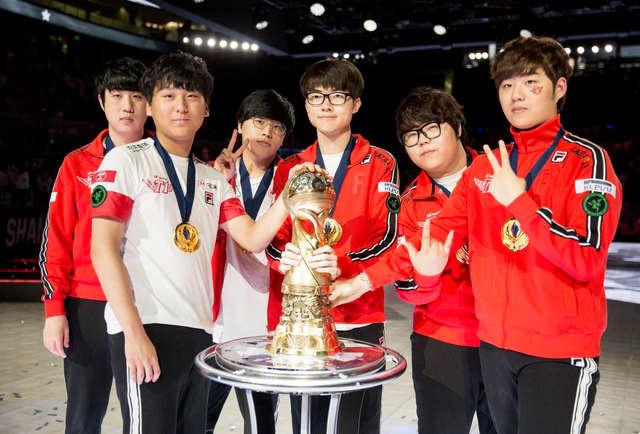 When talking about the legendary SKT T1 squad, we can't help but mention Bang (far right)
But recently, some veteran Riot commentators, including Drakos, Azael, Kobe and Chronicler, have discussed the topic of Worlds. One of the things that commentators are interested in is who has the ability and qualifications to be ranked as the GOAT of League of Legends in the Gunner position. Or more accurately, the commentators want to find a team filled with the greatest people in their positions throughout the history of League of Legends. And this time, Bang was completely "abandoned".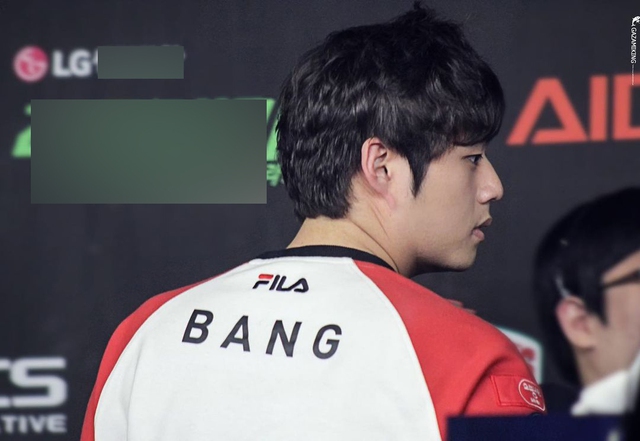 But recently Bang was "forgotten" by Riot's famous commentators
The commentators started with Ruler when the commentators all commented that this player is currently the best at the Gunner position but was eliminated from Worlds 2023 (after the loss to T1). Next, the players mentioned also include Uzi, Deft – names that have been confirmed in the role of ADC. Even Wolf – a former teammate of Bang himself and considered Bang's most perfect combo – was mentioned. But the former star of SKT T1, one of the people who defined the LCK standard way to play Ezreal, was forgotten.
Bang was never mentioned even though the commentators mentioned Wolf
This made female MC Jeesun Park, who is also Bang's fiancée, angry. She expressed her frustration by retweeting the post with the content: "I have never spoken out on this topic but they mentioned Ruler/Deft/Uzi (even Wolf) without paying attention to Bang. It's crazy. He's retired but he's still a world champion twice out of three times he's been in a Worlds final. I'm not trying to say he's better than anyone, but he deserves it. more respected".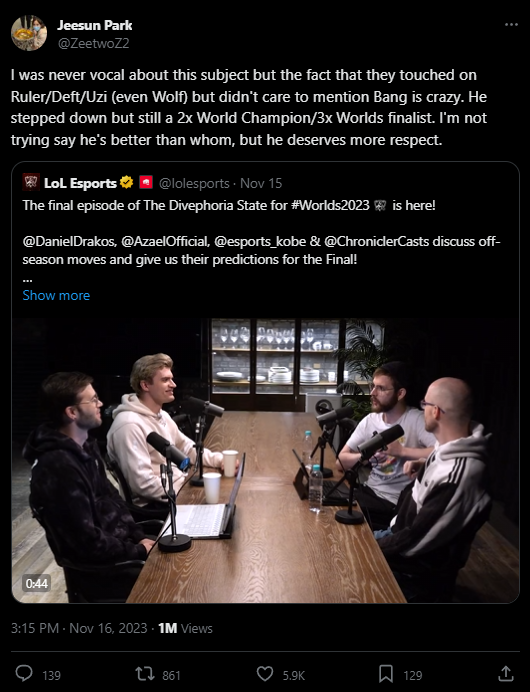 Female MC Jeesun Park – Bang's fiancée was also upset
But clearly, the LCK female MC's frustration is correct. One of the four commentators who participated in the discussion also had to admit that Bang deserved to be mentioned by name and said he was sorry that a misunderstanding had occurred. The audience also extremely supported the female MC, even praising her when she showed that she was truly a solid support for Bang.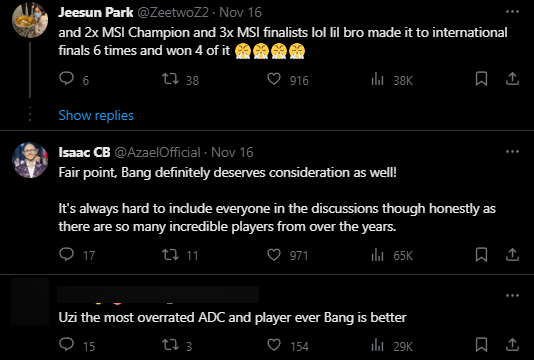 Riot commentator Azael had to speak up right away in the female MC's post
Bang is a legend of the LCK and of SKT T1/T1, that is unquestionable. And moreover, compared to the above characters, Bang is no less successful in his career. Clearly, he deserves respect and a solid place in the pantheon of legends of the professional League of Legends village.
https://gamek.vn/bang-bi-ngo-lo-khi-binh-chon-cac-goat-xa-thu-noc-nha-cuc-pham-ngay-lap-tuc-noi-xung-thien- 178231117173326571.chn