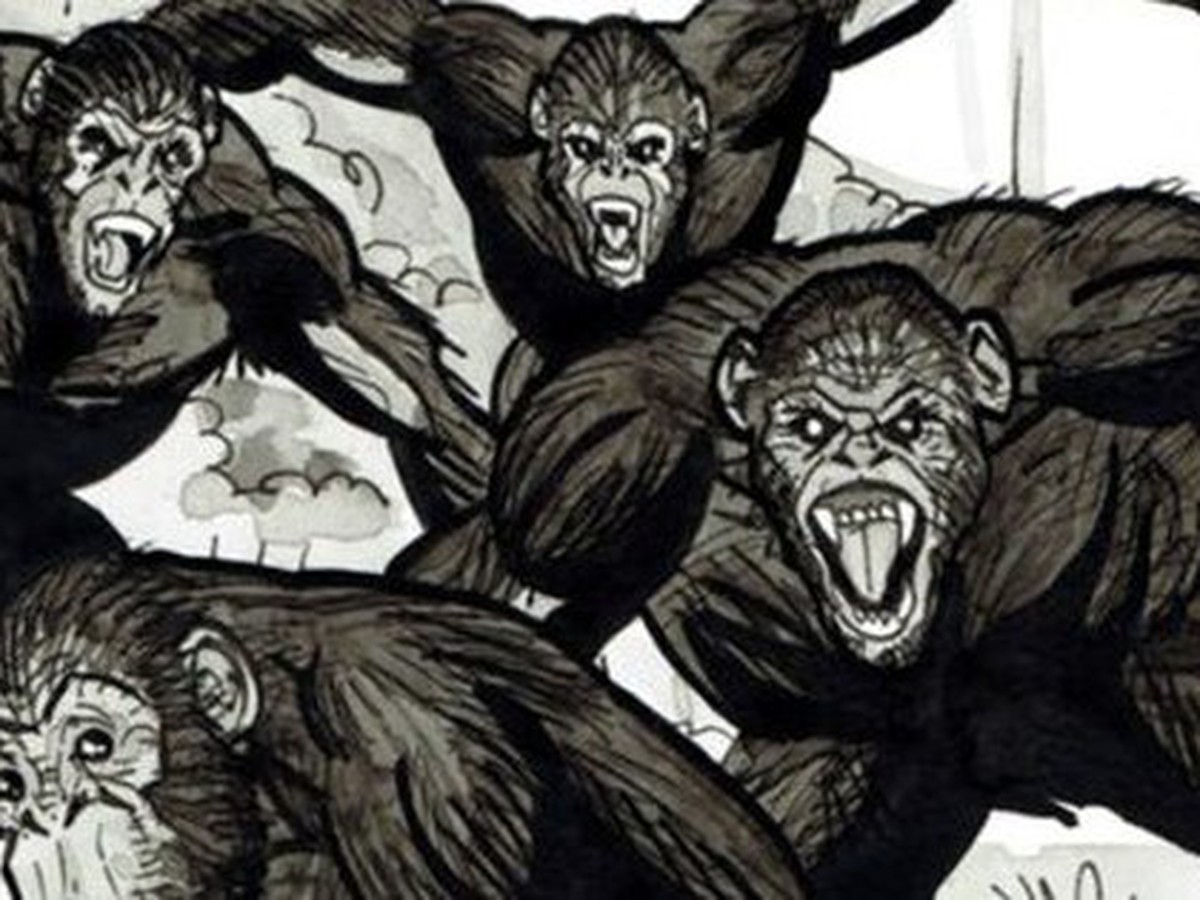 Deep in the rainforests of Congo, Africa, it is said that a population of gibbons with enormous body size and extremely barbaric behavior dominates there.
Known as the Bondo ape or Bili gibbon, many locals have reported seeing this mysterious creature with their own eyes. They are usually bipedal, about the size of an adult man, and nest on the ground like gorillas.
They say they are a very ferocious animal, famous for being able to kill lions. Some consider them to be an entirely new species of great ape, while others suggest that they are a cross between a gorilla and a chimpanzee.
Shocking reports about Bondo gibbons have been circulating for decades. While it is clear that something interesting is happening to the great apes of the Congo rainforest, many of these reports seem to have exaggerated the facts and added sensationalism to them. Like many stories of this type, the story of the Bili ape can be a mixture of fact and fiction.
One of the first scientific attempts to track down this mysterious ape was made in 1996 by Karl Ammann, a Swiss photographer and conservationist in Kenya. According to reports, Ammann came across several skulls kept at the Royal Central African Museum in Belgium. These skulls were collected by Belgian colonists in the past, at a site near the town of Bili in the northern Democratic Republic of the Congo, about 200 kilometers east of the Ebola River.
On these skulls there is a prominent ridge in the middle resembling the skull of a gorilla. But what's odd is that other aspects of the skull's shape and size are similar to that of chimpanzees, plus there are no known populations of gorillas living in the area where they were collected.
As a result, Ammann suspected that this might be an entirely new species and ventured to the northern part of the Democratic Republic of the Congo to find out. There, Ammann spoke with local hunters, who told him about seeing giant apes killing lions and apparently immune to poison darts.
More terrifying is that these strange beasts are also said to give out howls at the time of the full moon. Ammann also bought photos from locals, showing hunters bewildered by the huge body of the ape they've hunted.
Although Ammann's trip had gathered some information such as some extremely large chimpanzees and footprints larger than those of gorillas, in fact Ammann still did not collect any convincing evidence. about the Bili ape.
Another attempt to identify this mysterious ape took place in the summers of 2002 and 2003. One of the researchers on the expedition was Dr. Shelly Williams, who is believed to have returned from the trip. going to Democratic Republic of Congo said:
"They are a very large animal, their faces are flatter and longer and straighter compared to gorillas. They will gather from two to three individuals to nest together on the ground, meanwhile. others in the flock will nest in the low branches of nearby trees. They make a distinct sound like howling and get louder when the full moon rises and sets." She argues that the ape could be a new species unknown to science, a new subspecies of chimpanzee, or a hybrid between a gorilla and a chimpanzee.
In the years that followed, however, these bold claims were questioned as fabrications. A few years later, primatologist Dr Cleve Hicks and his team actually observed what is believed to be a Bili ape for at least 20 hours in the wild.
As reported by New Scientist in 2006, Hicks argued that they were almost certainly not a new species of ape or even a new subspecies, but simply an interesting population of chimpanzees. DNA taken from fecal samples confirmed this and suggested that these animals may be eastern chimpanzees (Scientific name is Pan troglodytes schweinfurthii, a common chimpanzee native to the Central African Republic). , South Sudan, Democratic Republic of the Congo, Uganda, Rwanda, Burundi and Tanzania).
However, Hicks' research shows that the chimpanzee population in Bili is quite unusual. They actually have a ridge on their skull like a gorilla and nest on the ground. It has also been reported that they have smashed termite nests and used a rock as an anvil to smash turtle shells, which is not typical chimpanzee behavior.
As for the claims of eating lions and walking on two legs, those claims have never been verified. On the other hand, the behavior of Bili-Uéré chimpanzees is still not fully understood, especially since the area has been the target of several wars over the past decades that have disrupted conservation efforts. .
References: Animalia; Unbelievable; ZME