Recently, ASIAD 19 officially kicked off in Hangzhou, Zhejiang province, China. This is the second consecutive Asian Games where Lien Quan Mobile is present in the list of Esports competitions. However, most Vietnamese audiences do not have too many expectations for "winning" this subject.
The reason, the version competing at ASIAD 19 is AOV ASIAN Games Version – a blend of Lien Quan Mobile (AOV) and the original game King of Glory (HoK). Besides, the competition schedule of ASIAD 19 is taking place in parallel with the 2023 Winter Arena of Fame season. The above two factors have made Lien Quan Viet's top names not really interested in the Asian Games season. meeting this year.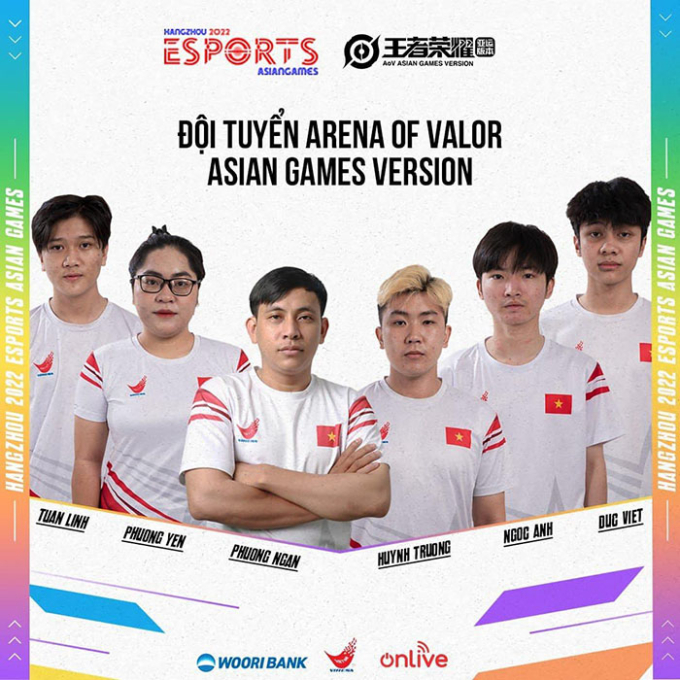 The Vietnamese Lien Quan squad at ASIAD 19 includes all unfamiliar names to fans.
While strong representatives like Thailand or Chinese Taipei all bring top names, Vietnam only has unknown players. Even Lien Quan Vietnam's squad participating in ASIAD 19 does not have a coach like League of Legends and PUBG Mobile. However, this is the most impressive opening competition of e-sports content to date. Overcoming doubts, the "weakest" representative suddenly had 3 overwhelming victories in the opening two days of competition.
Specifically, Vietnamese players defeated Uzbekistan and Tajikistan in two Bo1 matches. Immediately after that, they also "knocked away" Kazakhstan with a 2-0 victory in the Quarterfinals. However, the "dark horse" of the tournament collapsed when facing Malaysia in the Semi-finals. This result was surprising because previously, this was a country that was rated "below" compared to the general level of the Coalition in the region.
Vietnamese players had a good start at ASIAD 19.
It is known that this is Vietnam's second loss to Malaysia at ASIAD 19. Before that, we also lost 0-2 to this opponent in the Road To Asian Games qualifying round. However, this is still an extremely impressive achievement for young players "going abroad" for the first time to play for their home country's colors.
Thus, Lien Quan Mobile at ASIAD will have 1 Semi-Final match between hosts China and Thailand. The winning team will then face Malaysia in the Finals to compete for the first Esports gold medal. With home field advantage and many favorable factors, China is expected to be the owner of the gold medal.