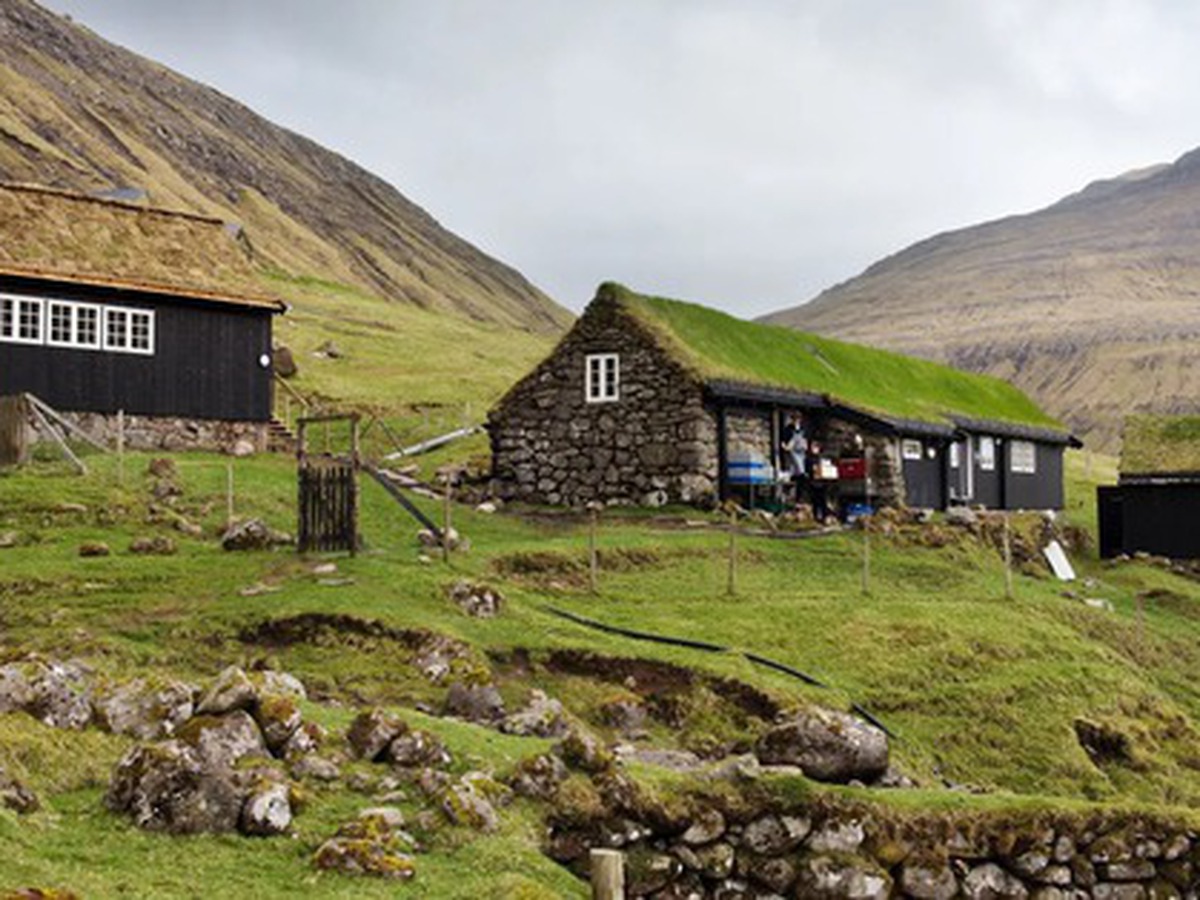 Eating is like going on an adventure!
That's exactly the best description when talking about a Michelin-starred restaurant with a very "unique" name – KOKS. This is known as the Michelin-starred restaurant in the most remote place in the world. Diners not only have to spend a sum of up to hundreds of USD, but also have to overcome a long and hard way to have a delicious meal.
To get to KOKS, you must first take a plane to the Faroe Islands, an archipelago of Denmark, 321km north of Scotland, in the frigid North Atlantic.
When you arrive on the island, you drive along the winding, narrow roads through the landscape like in the movie "Lord of the Rings". And yet, you have to go through a tunnel under the sea to reach the edge of the deserted Lake Leynavatn.
The most remote restaurant in the world – KOKS.
From there, you have to leave the car to climb into the back seat of a Land Rover dedicated to moving on rocky slopes to the final destination: an isolated wooden house. That's where the KOKS restaurant is located – the most remote Michelin-starred restaurant in the world. In Faroese, KOKS means a flirt, or someone who pursues perfection for something.
However, it seems that the distance is still not "epic" enough. On February 23, the restaurant's head chef, Poul Andreas Ziska, decided to move KOKS to Greenland for the summers of 2022 and 2023, while the Faroe island facility was under repair.
The Faroe Islands, an archipelago more than 300km north of Scotland, have an area of ​​​​more than 1,000km2, sparsely populated with more than 50,000 people and 70,000 sheep.
Specifically, the restaurant is located at the Ilimanaq Lodge resort, a 40-minute boat ride across the bay from Ilulissat, a town famous for its icebergs. This is the first time a Michelin restaurant has been present in Greenland.
Getting there doesn't get any easier than going to the Faroe Islands. Visitors will have to fly from Denmark or Iceland to Ilulissat airport, then take the train for about half an hour to get to Ilimanaq. The restaurant, which can only accommodate 30 guests, is open from mid-June to mid-September in 2022 and 2023.
Exquisite dishes that are rarely found anywhere else
KOKS is run by a team of 20 people, including chefs and service staff. each comes from a different country. In 2017, this restaurant achieved one Michelin star and in 2019 another one.
Besides its special remote location, KOKS always attracts the curiosity of visitors from far and wide with an experiential menu consisting of 17-20 dishes inspired by Norwegian cuisine. The dishes here emphasize sustainable harvesting and traditional techniques such as fermentation.
Fermented lamb, a specialty of the Faroese. "Fermented foods are probably the most important cultural heritage we have," says Johannes Jensen, the entrepreneur behind KOKS.
KOKS often uses local or home-grown ingredients such as wild berries, flowers, herbs, seafood, lamb, sea urchins, etc. According to chef Poul Andrias Ziska, the menu focuses on flavor. original and pure taste of the ocean.
Raw ingredients are always at the core of KOKS dishes. Chef and founder of KOKS – Leif Sørensen – said that he wants to introduce diners to the finest ingredients of the Faroe Islands and refine dishes that make anyone who enjoys it, "remember it forever". .
Skerpikjet – fermented and dried lamb – served with reindeer moss and mushrooms.
The terrain and climate make it difficult to grow vegetables on the Faroe Islands, and the people here do not traditionally eat shellfish in their waters, but often export most of their catch to other countries. European neighbors in the Southeast.
Instead, the traditional local diet consists mainly of cod, whale, seabird eggs and dried lamb with a pungent odor, processed without salt.
Ziska, who was Leif Sørensen's sous chef until taking over the restaurant in 2014, has developed a menu of more than 17 courses. "We work very hard on the clean, pure taste of the ocean," he says. "We wanted to highlight that purity with the fermented flavors of the island's traditions." .
Dishes such as sausages (a tubular dish made from the intestines of animals, stuffed with a mixture of blood and spices…) with smoked whale hearts, beef Wellington and Blueberry dessert with sea lettuce helped KOKS win its second Michelin star in 2019.