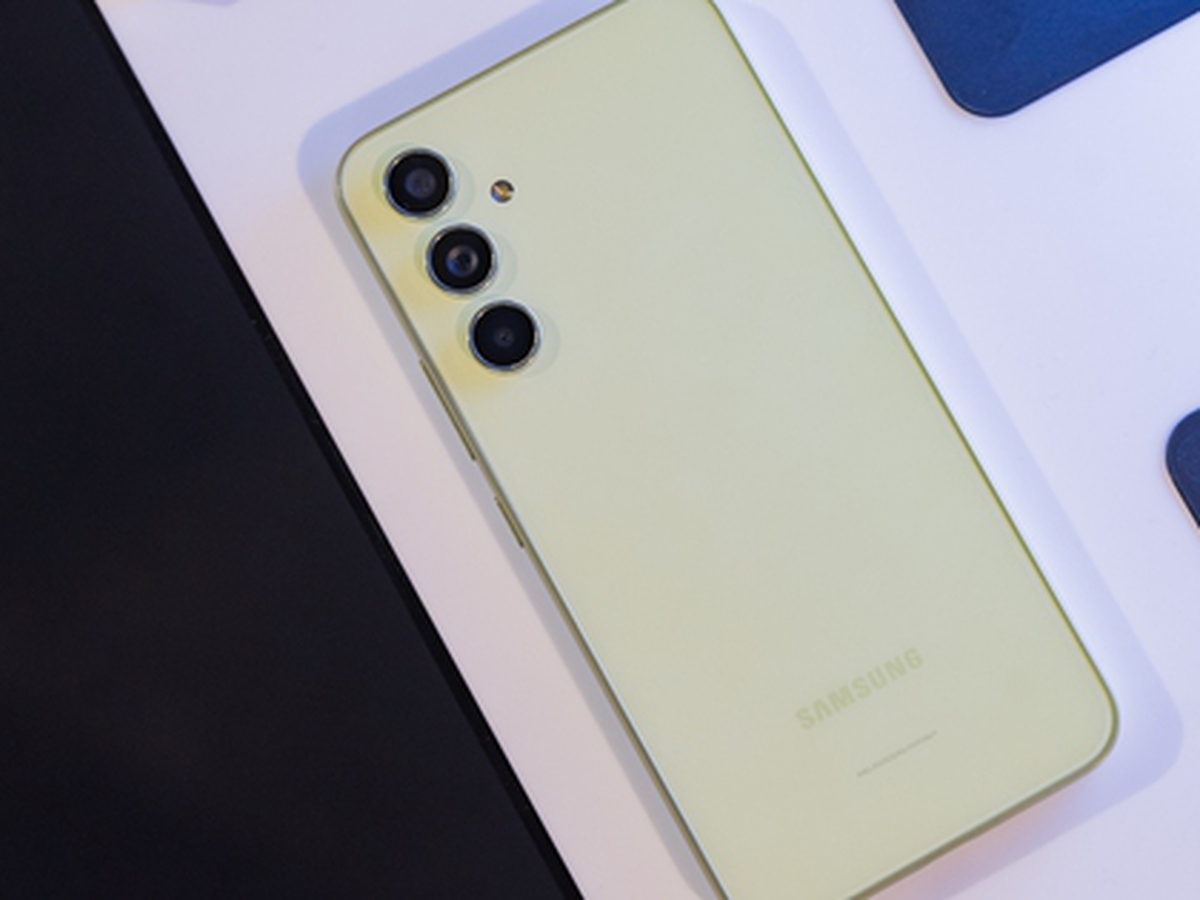 So after much speculation, the Samsung Galaxy A34 5G and Galaxy A54 5G duo were officially introduced to Vietnamese consumers in a grand event that took place on the afternoon of March 15. These are the two latest representatives of the Galaxy A Series product line, possessing many changes and upgrades from appearance to features and are prioritized towards young customers.
Samsung Galaxy A54 5G 3 color versions: Warrior Black, Brave Blue, and Elite Purple.
In terms of appearance, the first impression can be seen that both devices use the same design language, which has many similarities with the Galaxy S23 Series that was launched a little while ago.
At first glance Samsung Galaxy A54 5G looks like a Galaxy S23.
Specifically, the back of the device will have a minimalist style with the highlight that the camera cluster is placed separately at the corner. Along with that is the flat design on the front and back and the gently curved border for a very comfortable grip.
Both machines use sturdy metal frames for a firm, comfortable grip.
The edge is moderately curved, combined with the flat back to help the device become more compact.
According to Samsung, this year, all Galaxy products will follow a common design, with a uniform appearance and style, so this is not strange. However, it must also be acknowledged that this design style has given the Samsung Galaxy A 2023 more sophistication, high-end and elegant.
Samsung Galaxy A54 5G will use Gorilla glass 5 back for a luxurious look, while Galaxy A34 5G will use matte back.
In return for the somewhat elegant shape, this year Samsung Galaxy A Series is added with many new, youthful and dynamic colors that match the "gut" of young customers. Specifically, Samsung Galaxy A54 5G will have 3 color versions: Brave Blue, Warrior Black, and Elite Purple. Meanwhile, Samsung Galaxy A34 5G in addition to the above versions will have an Invincible Silver color instead of the Tinh Tinh Purple version, adding a variety of choices to meet the individual personalities of young people.
The silver version of the Galaxy A34 5G has a fanciful gradient effect.
The highlight of this launch of Samsung Galaxy A 2023 is the improvements in photography features. Specifically, Samsung Galaxy A54 5G will be equipped with a new 50MP image sensor with enhanced pixel size. This helps the machine to improve the image quality when shooting in low light, but also makes the thickness of the lens slightly higher than its brother. Meanwhile, the Galaxy A34 5G still uses a fine-tuned 48MP sensor to enhance photography performance.
The camera cluster is wrapped in a prominent metal frame.
Another upgrade on the camera system of both machines is enhanced anti-shake capabilities. Samsung said it has made changes to expand the amplitude of OIS optical stabilization, and at the same time, combine it with electronic stabilization, providing image stabilization, reducing noise blur by up to 58%. In addition, the two new Galaxy A devices also support pixel focus on the entire sensor, making the ability to capture and focus faster and more accurate.
In addition, this new generation of Galaxy A 2023 will inherit the ability to take pictures using AI technology, making images clear and detailed. Especially when shooting in low light conditions, the new A series will be invested in more processing, maximum support for young people to work anytime, anywhere.
Samsung Galaxy A54 5G will be equipped with a 6.4-inch Super AMOLED Infinity-O screen, while Samsung Galaxy A34 5G will be a 6.6-inch Infinity-U screen and have the same FHD + resolution and up to 120Hz refresh rate. . Both screens will have a brightness of up to 1000 nits while reducing blue light to protect the eyes.
Practical experience shows that the performance of both screens is almost no different. Eye-catching vibrant colors and responsive touch, fast scanning speed provide a smooth experience, promising to maximize gaming capabilities.
The screen border of both machines is still quite thick.
In terms of performance, Samsung Galaxy A54 5G uses Exynos 1380 processor with 8GB RAM and virtual RAM booster system up to 8GB with two internal memory options 128GB and 256GB. Samsung Galaxy A34 5G uses Dimensity 1080 chip with similar RAM and internal memory configuration.
These are two mid-range configurations that are considered to better support the ability to play games as well as handle heavy tasks. However, because the holding time is relatively short, a detailed assessment of the gaming capabilities of these two machines will be in a more in-depth article.
Both new Samsung models are equipped with a 5000mAh battery, with 25W fast charging technology. The device will also come pre-installed with One UI 5.1 version.
The price of Samsung Galaxy A54 5G for 128GB and 256GB versions is VND 10,490,000 and VND 11,490,000 respectively. Meanwhile, Samsung Galaxy A34 5G will be exclusively distributed at Mobile World with prices for 128GB and 256GB versions of VND 8,490,000 and VND 9,490,000 respectively.