The strongest squads of DTCL season 10. Let's learn about the strongest TFT season 10 squads of the new season, highly rated on the test server.
Top strongest squad of season 10
Big Hands, Big Face Conductor Lineup
In the new season, it will be a little easier for players to reach levels 6 and 7 (4 less XP), while reaching level 8 requires 12 less XP and reaching level 9 requires 8 less XP. This means that reaching level 9 will be 28 gold cheaper than in season 9. This will be a huge advantage for 5-gold squads, including squads revolving around general Jhin.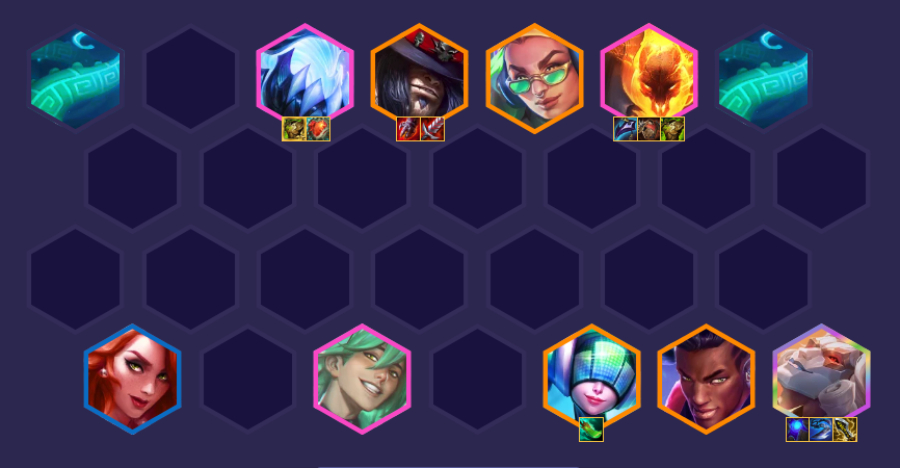 Big Hands and Big Face Jhin Team (The strongest 5-gold team of season 10 on the PBE server)
Players will start from the Pentakill Gladiator squad, with Olaf as the main general in the early rounds. The main goal will be to find a winning streak and apply the Fast 8 strategy. Gradually add Big Hand and Big Face champions to the squad (Miss Fortune, Ezreal and Jhin). The main equipment will be placed on Jhin. Above, Zac, Yorick, Illaoi and Thresh will be the generals responsible for resistance.
Players should note that there needs to be 4 drums on the reserve row so that the reserve allows Jhin to place his Endgame rifle. After placing 4 guns in reserve, Jhin begins to harmonize instead of attacking, opening fire and gaining 10 Energy with each shot. Every fourth shot deals an increased amount of "dramatic" damage.
Pentakill Mordekaiser squad (Pentakill Fan Cuong)
Even though he was demoted to just a 3-Gold general, Mordekaiser will still be one of the strong main generals in DTCL season 10 thanks to his ability to create shields, deal damage to the surrounding area, and absorb stats. when defeating enemies with skills. Besides the effect of reducing damage taken from the Pentakill clan and increasing the armor and magic resistance of the Guardians, Mordekaiser can completely confidently stand in the front barrier.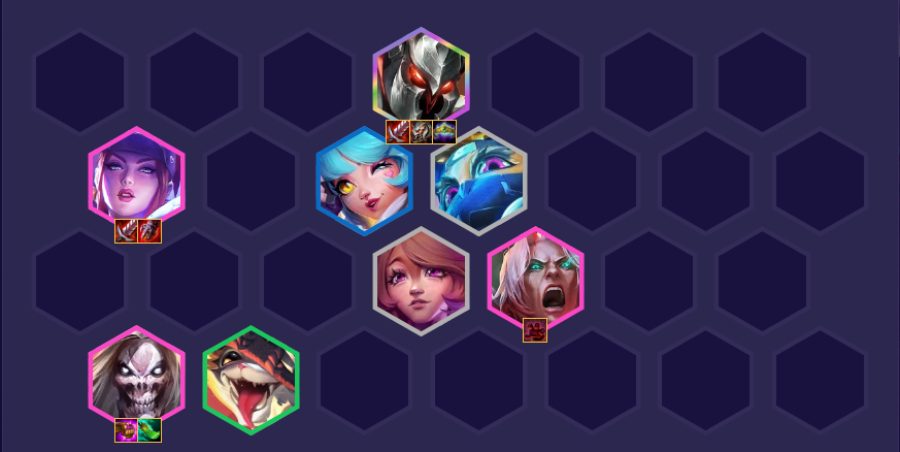 Pentakill Mordekaiser squad
Initially, players will start with Lillia, Kennen, Olaf and Gnar. Olaf will be the general who is equipped with equipment in the early stages before ceding it to Mordekaiser. Players will apply standard leveling and try to find Mordekaiser after having more than 50 Gold in the squad. Karthus, Viego and Akali (K/DA) will be the final additions to increase the damage in the squad.
Players will only need to combine 2 equipment Blood Sword and Giant's Power for Mordekaiser. The third equipment that players can get for this general is the Crown of Decay from the Fan Cuong system, with the condition that Mordekaiser must be a Super Star general.
Crazy Team
Katarina and Zed will be the main forces in the Crazy squad, in which the player's top priority will be to find Superstar Katarina in the squad. Put equipment on this general early and upgrade this general to 3 stars at level 6 with the Slow Roll strategy.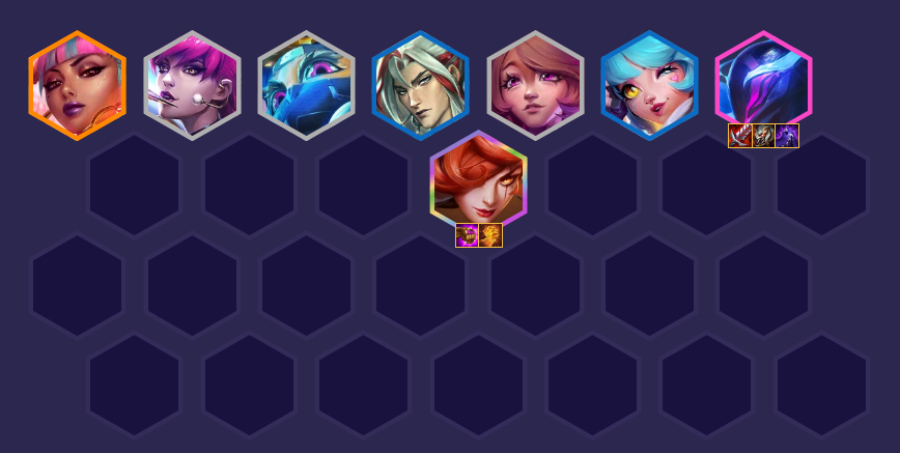 Crazy Team
After Katarina reaches 3 stars, players can upgrade to level 8 and complete the squad with Zed and Qiyana. Zed will be the second main force in the squad, needing gladiator equipment to increase damage and resistance.
7 Pentakill formation

In contrast to the Pentakill squad mentioned above, this squad will use Mordekaiser as the main tank, Karthus and Viego will be the main damage players. This squad can be completed as early as level 7, when the player finds Super Star Viego or Karthus.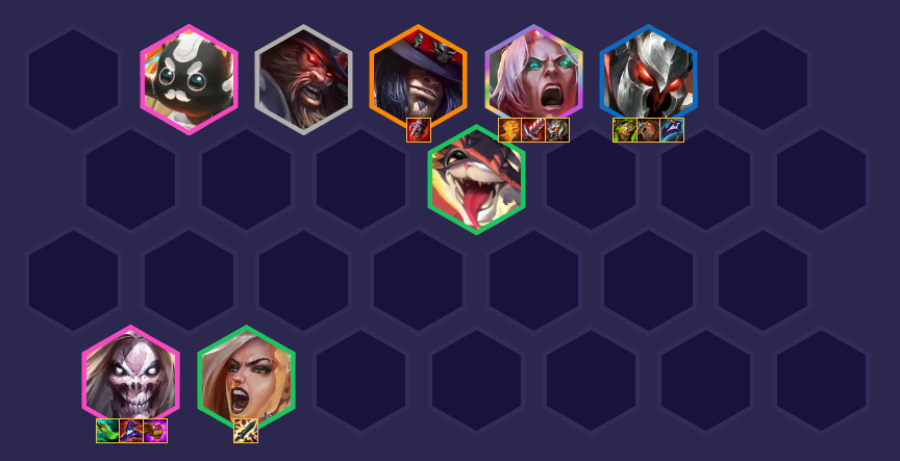 7 Pentakill formation
Initially, players will use Yasuo as a temporary main force before ceding it to Viego. This squad will apply the standard leveling strategy, requiring players to reach the 7 Pentakill mark. In addition to equipment that increases AD for Viego and equipment that increases AP and restores mana for Karthu, add defensive items to Mordekaiser and add 1 Guardian to complete the squad.
Country Emo lineup
This is a squad that can combine many different clans, can combine physical damage from Country mainstays and magic damage from Emo. Samira or Urgot will be the Super Star general, playing the main main role in this team.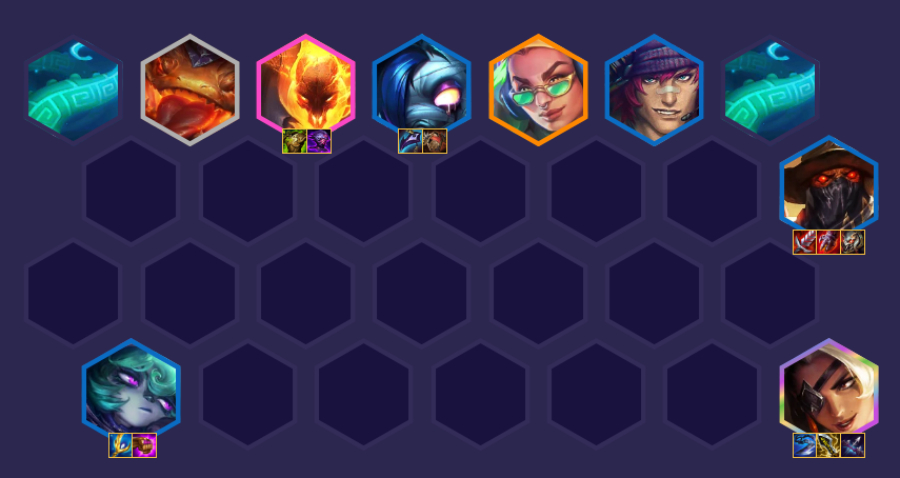 Country Emo lineup
Mid-game will be the strongest time for this team, when the player gets Samira and Urgot to 2 stars. To win, players will need to upgrade these two generals to 3 stars. 3 Fighters (Tahm Kench, Illaoi and Sett) and 2 Guardians (Thresh and Amumu) will be the generals responsible for resistance (Thresh and Amumu will need defensive equipment).
Thanh Ra De squad
With attacks that cut through opponents and increased attack speed, Thanh Ra De will be the team that inherits the Duel Duel of Truth Arena season 9. Notably, most of the champions of this team have can take on the main role, the most prominent of which are Riven, Viego and Yone.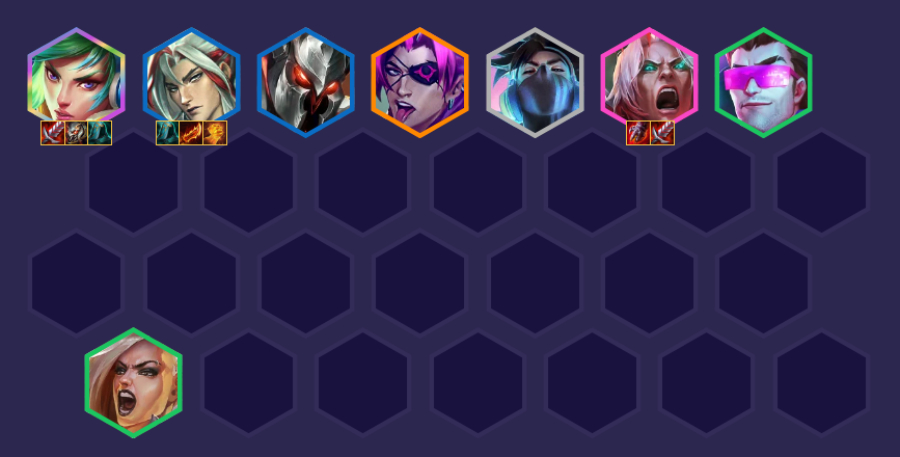 Thanh Ra De DTCL season 10 lineup
The player's biggest priority will be finding Super Star Riven. After reaching level 6 in round 3, try to Slow Roll to upgrade Riven and Yone to 3 stars. At the end of the match, the player will complete the 7 Saint Ra De squad with Viego and Kayn. Mordekaiser or Blitzcrank will be options to provide additional Guardian effects for Riven.
KDA lineup combined with Sona
Playing this squad is relatively simple, players just need to add all the KDA champions to the squad and add Sona at level 8. Ahri will be the Super Star champion that players need to look for and is the source of kills. The most important injury on the team. This is also the perfect clan/system to play a two-main strategy. Let Akali hold AD items and Ahri hold AP items.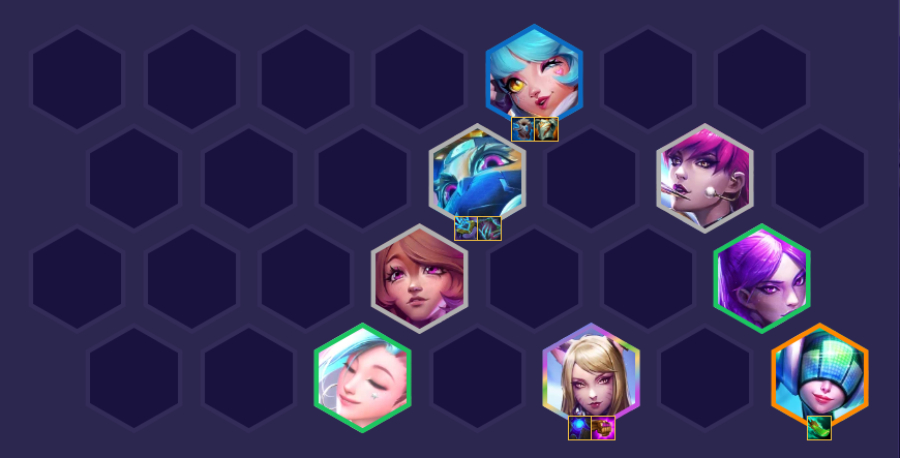 K/DA DTCL season 10 lineup
At the beginning of the match, players can temporarily equip Kai'Sa (Note to keep multiple clones of Kai'Sa because this general will still be used until the end of the match). Neeko and Kennen are the main tank champions in the squad and need defensive items. Note, all champions in the shine box receive additional Maximum Health, Ability Power and Attack Power. K/DA champions will Play Dry Blood and receive double the effects. When you go into battle with more K/DA members (including guest stars, Hard Fans, and Indian owners), you will reach powerful clan/system milestones, giving you more Health, AD, and AP.
With Sona's Music Witch race/type, you will choose a mode to adjust her Skills and attacks. She will have 3 modes for you to choose from, depending on the needs of your squad: increased healing, increased Attack Speed ​​or simply increased damage! With her ability to survive, she will benefit greatly from stacking items like Staff of Eternity or Rageblade!