The power of the main Rammus
With a solid champion, Rammus has been a strong tank unit since launch. With the current Teamfight Tactics meta revolving around many powerful damage-over-time staples, Rammus proved to be an extremely good counter. Rammus' ability to control and reduce damage from skills will make the opponent much weaker.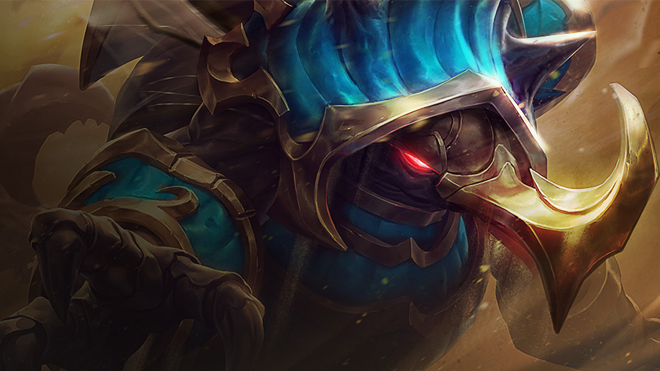 Rammus has an extremely strong champion to make it difficult for current strong mains – source: Riot Games
Even a Challenger player at the Brazilian server named Galactus found a way to push Rammus to the top. This roster centered around this Pangolin helped Galactus earn nearly 200 ranking points in just a few days and reach the Challenger rank.
Build a squad around Rammus
To start the match in the best way, players should use Nasus and Malphite in combination with Gladiator generals. The Mascot's healing ability and the large amount of health from the Gladiator will help the cylinder team fight extremely strong. At level 5, the player can add a strong standalone magic damage unit like Lulu or Lux to the squad.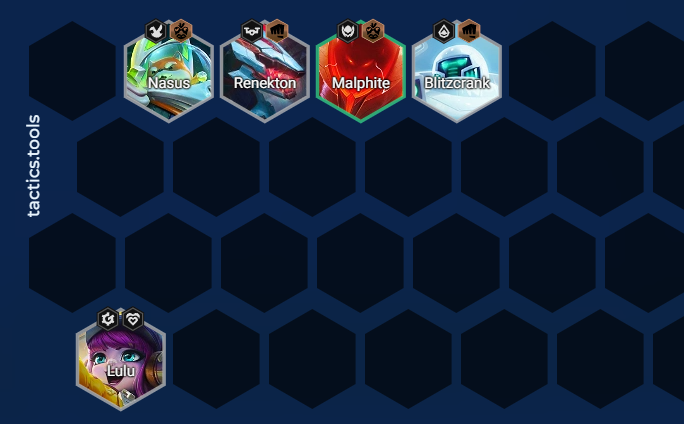 The basic formation players should aim for at the beginning of the game – source: Tactics.tools
By level 6, players need to rotate the Shop a bit to find important units like Vex, Alistar and Rammus. Morgana is also a good unit at this point when adding control, reducing resistance. After reaching level 7, the player can put Jhin, Pyke on the field to increase resistance to Zac.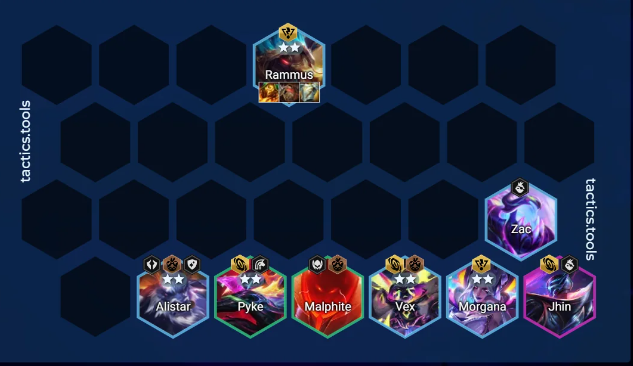 Landmark 4 Mascots will help Rammus fight extremely well – source: Tactics.tools
Basically, the player will stop at level 7 and try to raise 3 gold staples like Rammus, Vex to 3 stars. If enough gold to level 8 Viego and Ekko will be quality additions. At that time, Jhin will play a secondary role and add physical damage to the squad.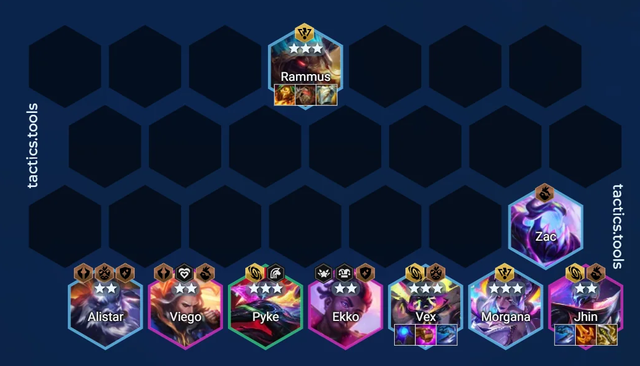 The complete lineup at the end of the game players should aim for – source: Tactics.tools
With the Tech Core option, Rammus's Rock-hard upgrade will come first. In addition, the cores that support the rotation of the Store (Winning Ticket), increase the damage (Sublimation, Gemstones) are also suitable for this lineup. In terms of equipment, Rammus will need the Cloak of Thorns, the Stone Armored Beast, and the Flame Cloak to withstand and deal damage most effectively.
Conclude
With the Teamfight Tactics meta having so much damage over time, Rammus proved to be a very strong counter. Players should take advantage of the lineup around this champion to effectively climb the ranks at the present time.