Free Fire OB42 version will reach gamers on the official server in early November with a series of notable new features.
SURVIVAL MODE
Update survival mode OB42
• FF coin system adjustments: Coin generator;
• New items: Active skill card, Teleport gate, Stim item, Turret, Healing UAV, Glue bomb accessory;
• Mobile safety zone
• Reduced healing outside the safe zone
• Other adjustments:
– Spoils of war: added and adjusted the appearance rate of some items and the falling speed of vending machines/audio machines;
– Green area: add and adjust the appearance rate of some items;
– Vending machines (regular and special types): add/replace/remove some items, limit time to buy Revive Cards and Heroic Missions to save the team;
-Hearing (normal and defensive types), War Chest: added/removed some items
– Optimized the heroic mission to save the team
– Other: removed some items on the map, adjusted in-game missions/starting point after respawn in solo mode.
DEATH MODE
• Deathmatch Special Rank: Super Battlefield
– Receive 2 class protections when trying out;
– Choose 1/3 fighting style: Speed ​​King, Explosives Expert, Defense King to join the match. Each style will develop different skill sets;
• Other: optimize the delay in appearing the "teleport" button of the teleportation gates in the Square area (Century Island).
NEW ARMY SYSTEM
Soldiers
• Up to Legion level:
– Honor points –
– Each week, the legion will have a certain amount of activity points deducted depending on its current level;
– The corps will level up when it exceeds the system's activity point requirement and vice versa, it will be downgraded when its activity point drops to the minimum required threshold (Time: 04:00 every Monday)
• Dynamic system: play with members of the corps or participate in the Legion war to receive activity points. With enough points, you can receive a Legion badge to exchange for gifts;
• Legion Emblem and Legion Store: the higher the level, the more benefits;
• Legion rankings: rankings will be determined by the total activity points earned by the Legion in the previous week.
– Legion interaction: added a news feature and an area displaying prominent players in the Legion;
– War Legion: each version is a season, first season duration: November 11, 2023 – January 20, 2024;
– Other optimizations: search/filter feature, adding new Legion logo, setting location, Legion management page.
GAME MODE
• Optimized Zombie Outbreak: 2 active skills, level cap increased to 15, added War Chest/Item Station, removed air strikes, changed safe zone shrink speed;
• Optimize Tam Lang Chien: optimize the fairness of matchmaking, change the arsenal.
MAP
• Cover Military Island with snow;
• Adjusted the Heaven's Gate and Barracks areas.
FIGURE
• New character: Ignis – Flame of Glory
– Skill: Fire Illusion – Limits vision and deals damage to opponents and glue bombs.
• Rework skills:
– Nikita: increases reload speed by 20%, attacking an enemy will reduce the healing effect by 30% for 10 seconds;

– Suzy: destroy marked enemies to receive additional FF coins. Anyone on the team who kills an enemy gets +200 FF coins, receiving an additional 100 coins when eliminating an enemy.
Get an additional 100 FF coins from the Coin Generator (Survival mode);
– Joseph: removes negative effects (slows, marks, locks skills) and +10% movement speed for 5s. cooldown 60s;
– Jai: automatically reloads the magazine after defeating an enemy or using an active skill.
• Increased strength:
– Homer: increases the range of influence of the move (3m –
– Wukong: increases movement speed when turning into grass (10% –
– Iris: increases the number of glue bombs that can be shot through (3 –
• Reducing power:
– Dimitri: increases cooldown time (60s –
– Thiva: increases cooldown time (60s –
– A124: reduces effect duration (30s –
– Nairi: reduces glue bomb durability (250 durability/s –
– Orion: reduces the ability to suck blood from opponents (15 HP/s –
– Sonia: reduces shield (150 –
• Other adjustments:
– Optimized controls: A124, Tatsuya, use active skills when jumping;
– Changed skill effects: Orion, Tatsuya, Homer, Olivia;
– Adjusted skill descriptions: Paloma, Orion, Otho.
WEAPONS AND BALANCE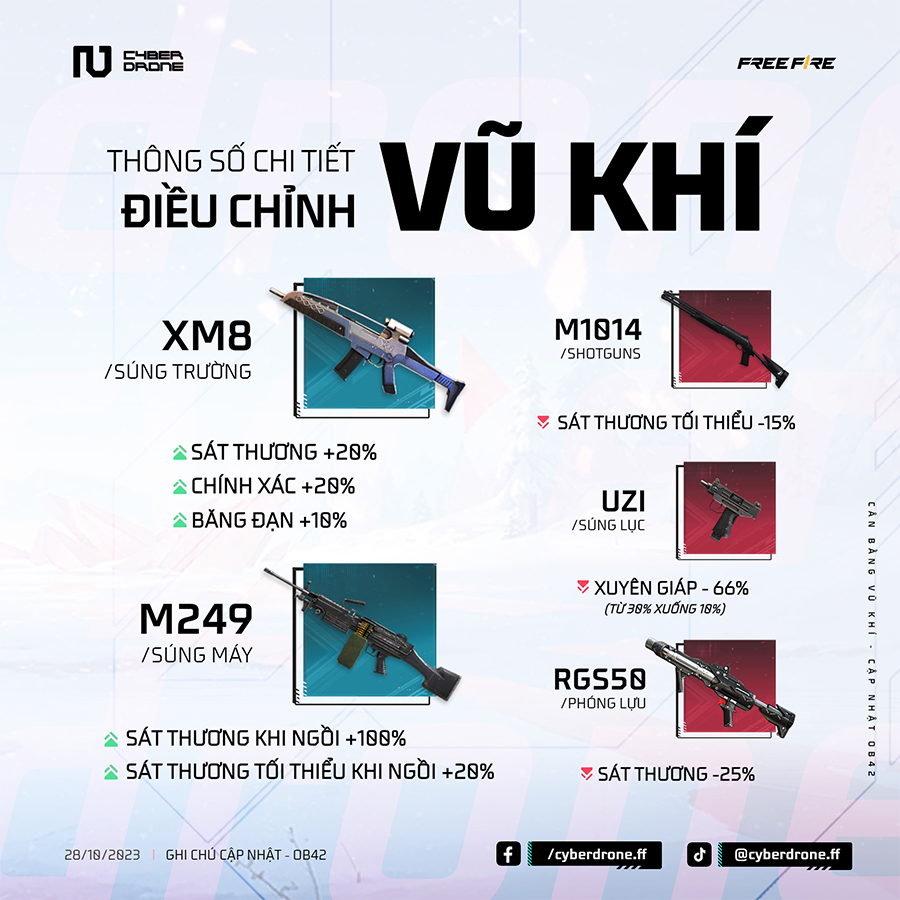 Adjusted OB42 weapon
• Increased strength:
– XM8: +20% damage, +20% accuracy, +10% magazine;
– M249/ M249-X: +100% damage buff when sitting, +20% minimum damage when sitting.
• Reducing power:
– M1014/M1014-I-II-III: -15% minimum damage;
– Uzi: -66% armor penetration (from 30% to 10%);
– RGS50: -25% damage to players.
STYLE PLAY
• Parachute optimization;
• Voice chat on Connected Island: other players' volume correlates to their distance from you on the island;
• Equipment supplies: Personal shop (new), adjusted some old equipment (Hunter HH, Scanner, Aid Hearing, Backpack).
SYSTEM OPTIMIZATION
• Special voice packs: change instant message settings page, add new special voice packs;
• Optimized the display of network connection status in the lobby;
• Smart reminders: get new advice or information from your assistant based on what you did in the previous match.
RATING
• Added rewards when breaking through Bronze I – Diamond I for the first time;
• Display rank on Challenger rank logo;
• Change the ranking display in Death Battle: instead of displaying individual rankings, the average ranking of the entire team will only be displayed;
• Changed the map combination for certain ranks: from Bronze – Gold, you can only play Military, Paradise, and Century.