VNGGames is known as a publisher (NPH) that always takes gamers as the focus to operate and develop games. The story of customer gratitude and always accompanying gamers is no exception to that rule. NPH VNGGames launched the VNGGames Rewards program with the desire to thank the contributions and commitment of gamers to VNGGames products.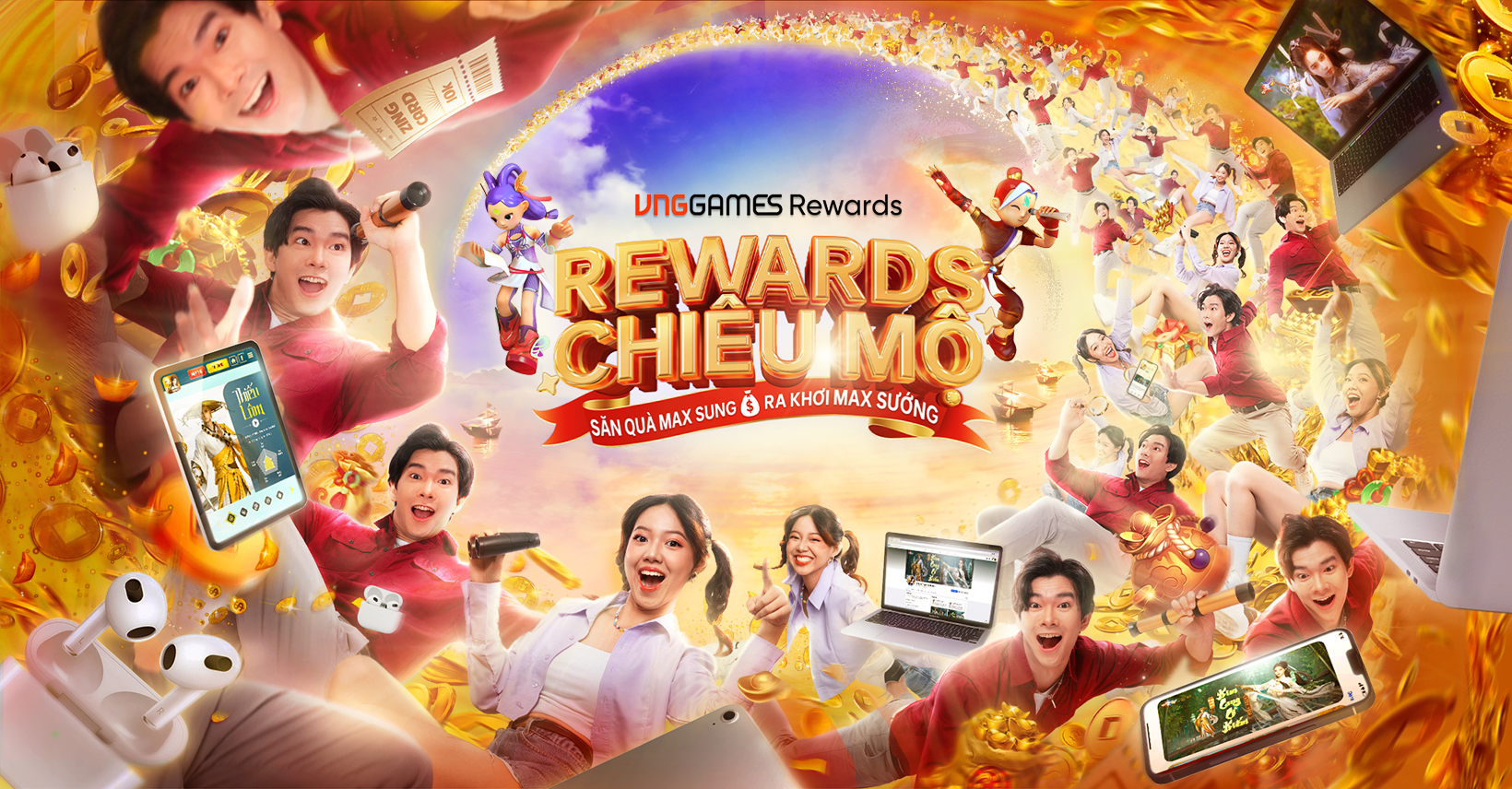 From August 15, 2023 to August 28, 2023, VNGGames Rewards opens Beta and welcomes 5,000 Vo Lam Truyen Ky MAX gamers to become the first to receive attractive offers from the program.
Rewards forever with Ocean Treasure activity
When becoming a member of VNGGames Rewards, gamers have the opportunity to receive extremely valuable gifts such as Macbook Pro M2 2022, iPhone 14 Plus 128GB, iPad Gen 10 2022 Wifi 256GB or Airpod Gen 3 through the Treasure Chest activity. Ocean. To participate in the activity, players need to successfully log in to VNGGames Rewards and complete the Phone Number Verification task to get the BONUS TICKET.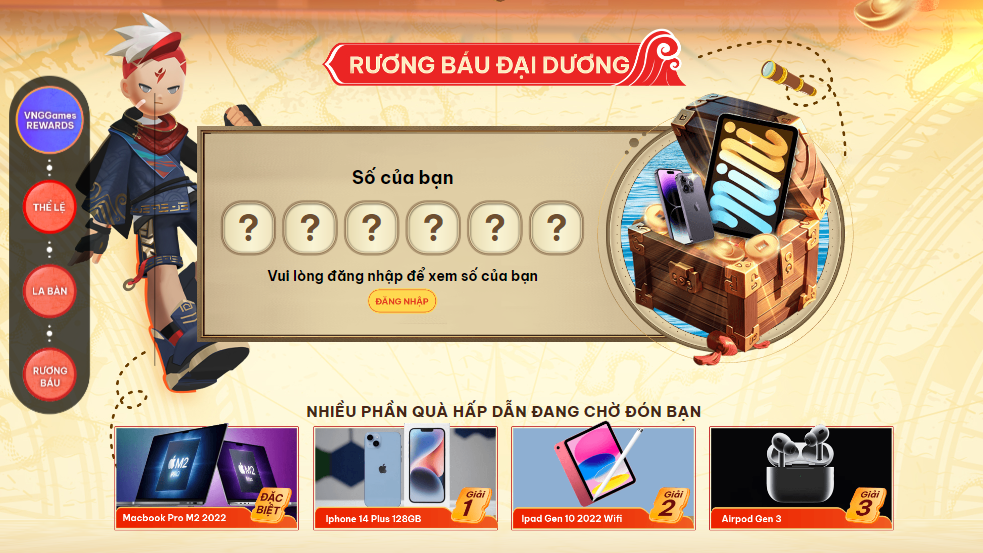 The prize ticket consists of 6 random numbers and is a unique sequence of numbers. Each player will receive a maximum of 1 Prize Ticket for the duration of the event. Players can find their Prize Tickets at the VNGGames Rewards Bag. If you are lucky, you will have a chance to win one of the above prizes with 1 special prize, 1 first prize, 2 second prizes and 3 third prizes.

Players who own the Prize Ticket with 6 numbers that completely match the announced lucky number sequence will be counted as winning. The results of Ocean Treasure Chest activities will be updated at the Rewards Join event page on September 29.
Join Rewards, "luxury – genuine – smooth" gifts are handed over
The gratitude program VNGGames Rewards also offers many interesting activities during this period such as Triumph Compass so that gamers have the opportunity to receive more useful gifts. Here, players will in turn complete the program's tasks to receive spins and try their luck at the Bonus Compass. Tasks include Verifying phone number, Using Coin (a reward unit at VNGGames Rewards) to pay transactions at pay.zing.vn payment gateway, Redeem Zing card or Got It Voucher, and finally Verify real email address.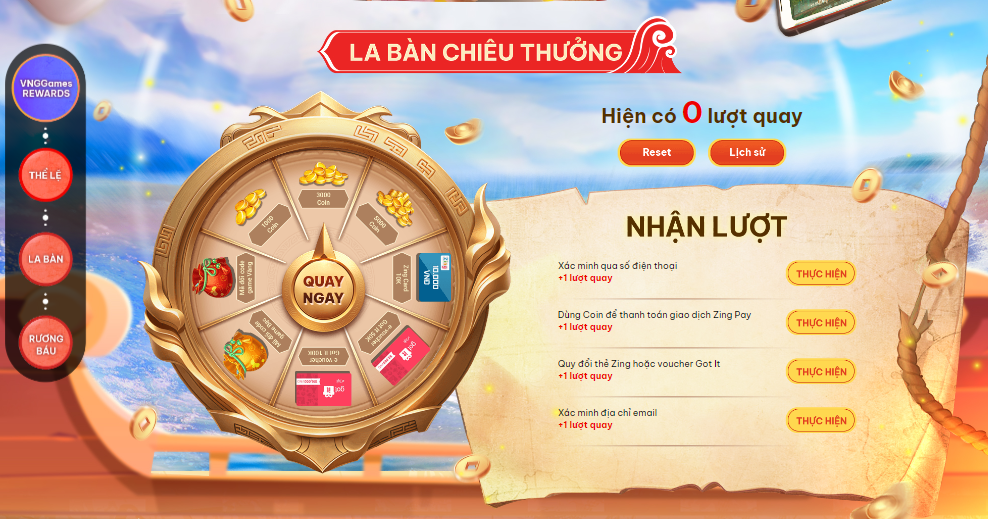 With each spin, players have the opportunity to receive rewards from 1,000 to 5,000 Coins, Silver and Gold Game Codes, Zing cards and Got It Vouchers, etc. The received rewards can be used immediately. However, it should be noted that for Game Code Changer, players need to go to "History" to change the code to the desired game code.
In addition, when participating in the program, players will have the opportunity to receive more than 20,000 Coins exclusively for this recruitment. Vo Lam Truyen Ky MAX players who accumulate top-up points in the most recent month (from July 16, 2023 to August 15, 2023) will be converted into Coins and hunt for great and very good gifts from VNGGames Rewards program.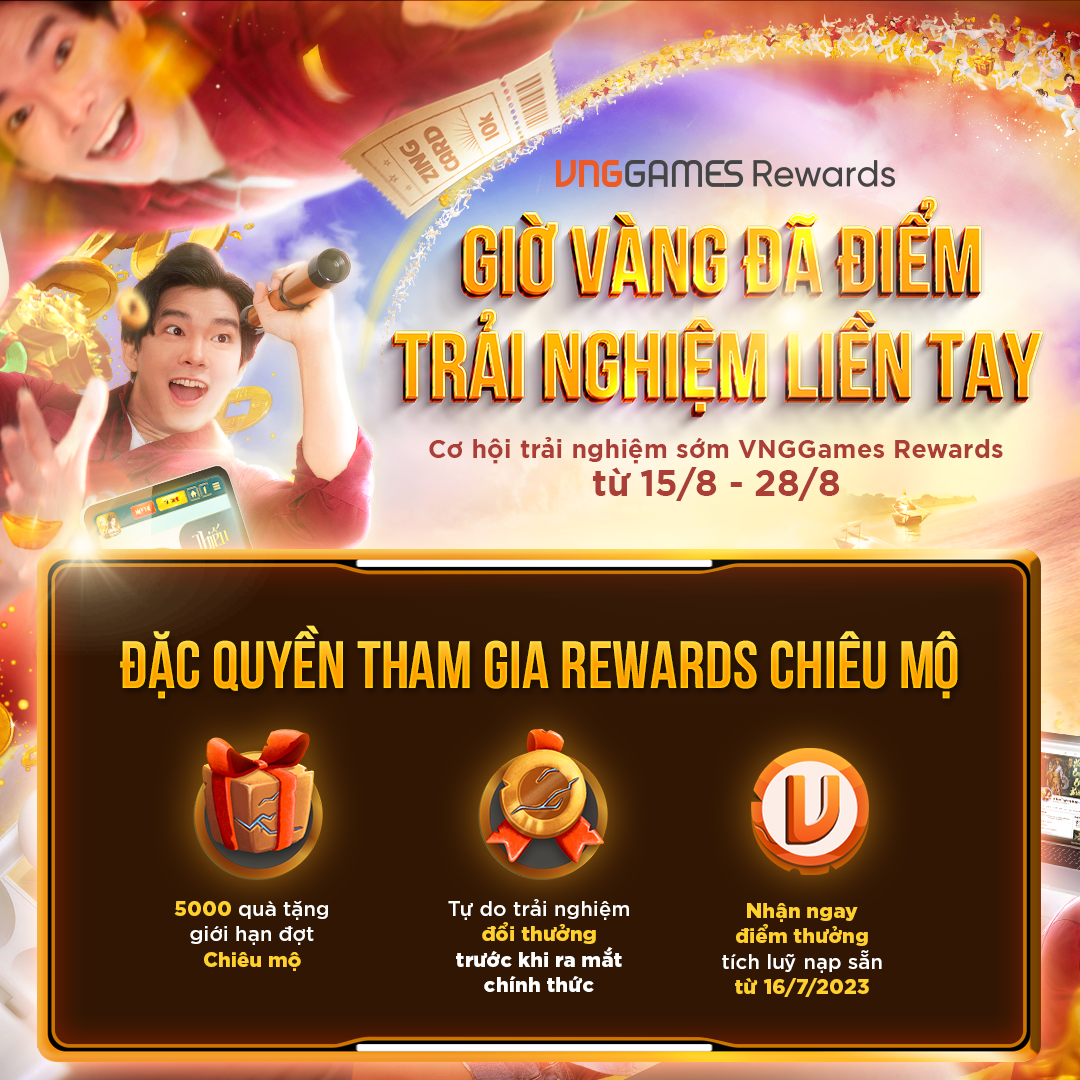 With such attractive prizes as above, what are you waiting for without inviting the Vo Lam Truyen Ky MAX brothers to join the VNGGames Rewards program right away. In the near future, there will be many more games that will officially appear at VNGGames Rewards such as Vo Lam Truyen Ky, Vo Lam Truyen Ky Mobile, Vo Lam Truyen Ky 1 ​​and Kiem The Origin,… VNGGames Rewards to not miss the latest updates:
Program information here: https://rewards.vnggames.com/