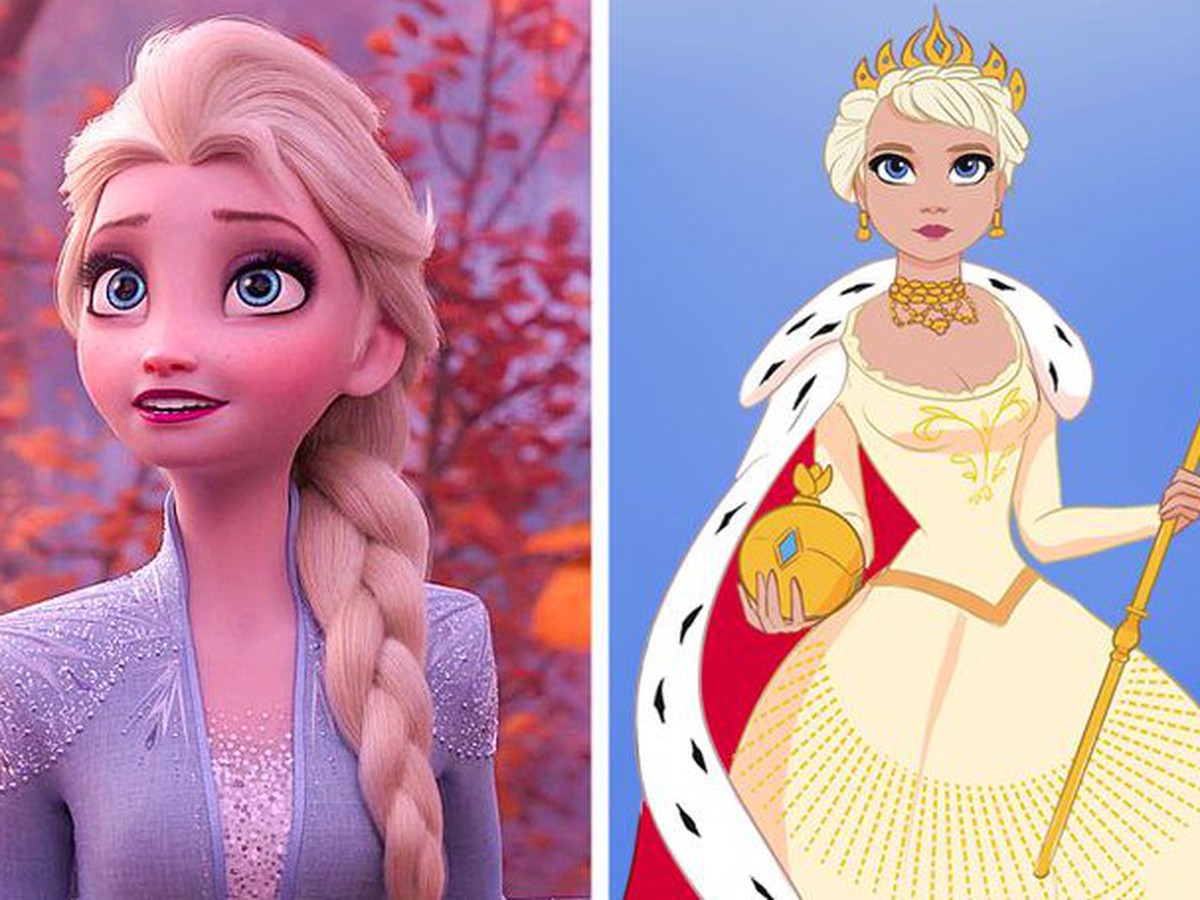 For many people of the 9x and 10x generations, Disney animated films shown on television and the big screen have become an extremely familiar part of childhood.
Throughout the stories of the princesses, the filmmakers slightly changed their appearance based on the flow of the times, to suit their tastes. This has created beautiful, gentle princesses like Cinderella, Bella to Moana, strong and independent like Elsa.
The image of Disney princesses is also ingrained in everyone's subconscious from an early age. So much so that we are so used to seeing them like that that we cannot notice the inaccuracies in their images. For example, Belle should have worn a bulky wig, or Jasmine should have covered her head when walking on the street.
Below we take a look back at Disney princesses to see what they really should have looked like!
1. Pocahontas
Pocahontas was originally called Matoaka, a name that means "flower between two streams". In her story, she is only 10 – 12 years old, not in her 20s like she appears in Disney movies. Because she was the daughter of Chief Powhatan, she wore deerskin, wore beads around her neck, and braided her hair.
2. Princess Jasmine
Princess Jasmine was originally called Badroulbadour, but her name was changed to make it easier to understand. In the story, she is depicted wearing loose, discreet clothes because of the hot environment in which she lives.
3. Snow White
Snow White lived in Germany around the 16th century during the Protestant Reformation. Women at that time mainly wore dark clothes with high collars. They also often wear a headdress and tie their hair back.
4. Rapunzel
The setting of Rapunzel's story also takes place in the mid-16th century in Germany. At that time, women wore very feminine, more elegant clothes called Cranach ao dai, or German Saxon ao dai.
5. Aurora
The story of Princess Aurora in "Sleeping Beauty" takes place in France in the 14th century. Back then, aristocratic women wore tailored dresses with tight sleeves and bodices. These outfits are often buttoned in the front and are called Cotehardies.
6. Elsa
Elsa lived in the mid-18th century, and women of that time wore beautiful, luxurious Victorian dresses, like evening gowns. They were just starting to use corsets and embroidery wasn't very popular yet. As the new queen, Elsa will wear a more intricately designed gown instead of the simpler one she wore in the film.
7. Ariel
It's difficult to give an accurate description of Ariel underwater, since we've never seen the mermaid in real life, so let's look at the moment she turns human. The story's setting is in the 17th century, during which time women wore off-the-shoulder dresses with puffed sleeves.
8. Mulan
Mulan tells the story of a brave girl in China during the Northern Wei period who disguised herself as a man to take her father's place in the army. But in terms of clothing during this era, women at this time often wore clothes that were loose, layered, tight at the waist, and had extremely wide sleeves. The makeup they used was also bright and fun and they wore flowers in their hair.
9. Cinderella
Initially, people believed that the story of Cinderella began to appear and spread widely in the 18th century, but it seems that it originated in China in 206 BC. During this time, there weren't many portraits of women with blonde hair because this was not a fashionable hair color in the 1830s. So, Cinderella would probably be a brown-haired or black-haired princess.
10. Belle
Belle is one of the princesses that is more accurately portrayed than most, but her depiction is still not "perfect." Since the story is set in 18th century France, Belle's dress should have been more fashionable. In addition to the headdresses that women of that time wore, they also used flowers, ribbons, lace, feathers and jewelry.