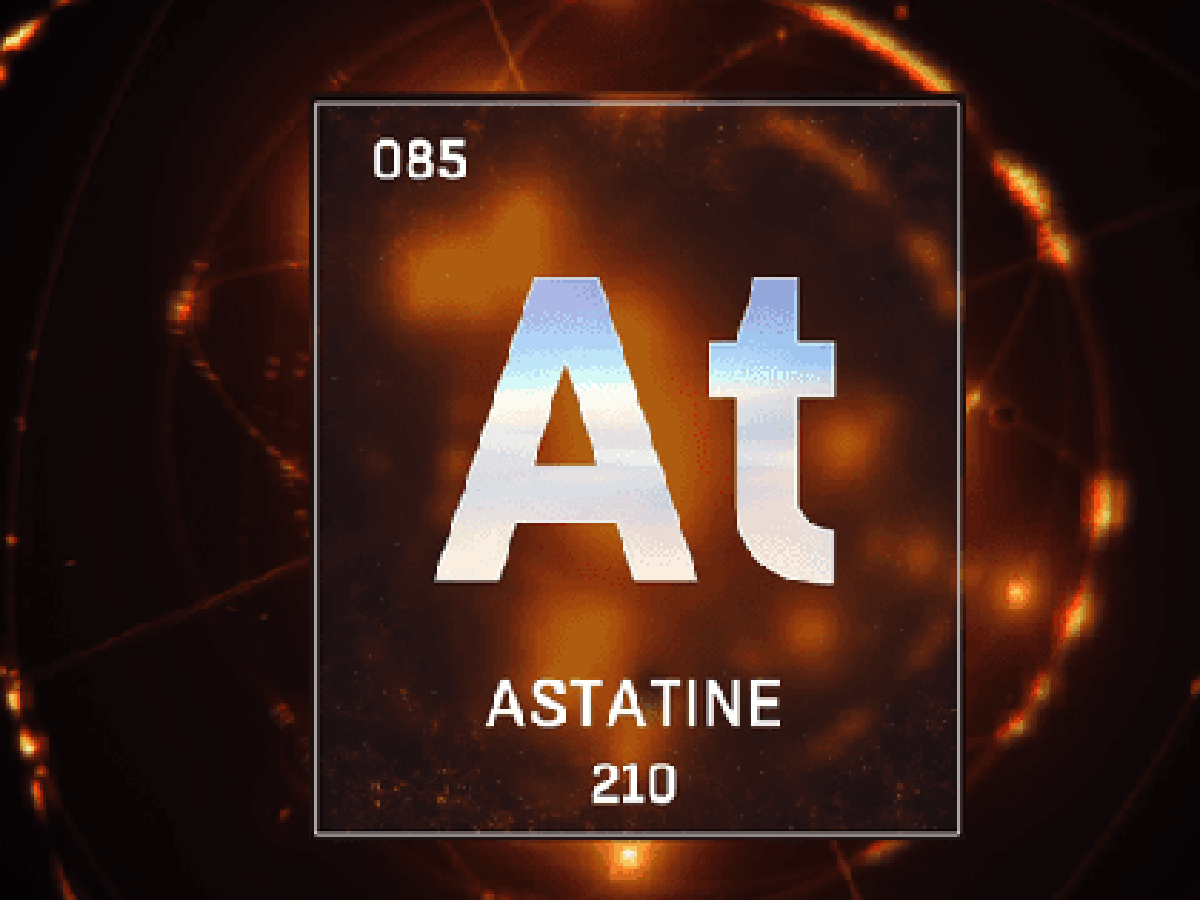 Up to now, humans have recorded a total of 118 elements in the periodic table. Interestingly enough, not all of us have the opportunity to be exposed to all of these elements. Instead, the chance of someone being exposed to just 5 elements is 9 times higher than the other 113 elements.
The reason is also quite simple: Of the dozens of elements found in the Earth's crust, five, oxygen, silicon, aluminum, iron, and calcium, account for a total of more than 92%. In fact, nearly half of the atoms we come into contact with every day are oxygen, making it the most common element on the planet.
In the opposite direction, humans have also recorded the existence of astatine – a natural element that is considered the rarest on Earth at the moment. It is estimated that there are only about 25 grams of astatine on the Earth's surface. This type of element is so rare that scientists still don't know basic information about the element, such as what it looks like.
Astatine is named after the Greek word for "unstable". This is considered the name that best describes the properties of this element. It is extremely radioactive, with a half-life of just over eight hours even in its most stable form, known as astatine-210. That means that even if you're lucky to find a certain amount of astatine, you'll only have about one-eighth of it left after about 24 hours. With the rest, it will be converted to bismuth-206 or polonium-210.
As an unstable isotope, astatine has a half-life of one second or less. In elemental form, everything is even more volatile: Its radioactivity is so high that, if you can afford to see it with the naked eye, it will literally vaporize on its own under its own heat. .
Although scientists can deal with the element directly, they can only do this artificially, i.e. through nuclear reactions – usually by bombarding bismuth-209 with alpha particles. .
Therefore, most of what we know about the element has come from theory rather than actual experimentation. For example, scientists surmise that astatine might look like a black solid, because it's in the halogen group of the periodic table. The halogens get darker as they get heavier: fluorine is essentially colorless, chlorine is yellow-green, bromine is reddish-brown, and iodine is a dark gray-violet – so logically the element is is the next halogen on the list, so it should be even darker.
However, this conjecture also leads to more debates about astatine, such as whether it is a metal or a halogen. This is considered a divisive question for chemists, as astatine also lies along a diagonal in the periodic table containing metalloids such as boron and silicon. In chemical reactions, it sometimes behaves like a halogen, while at other times behaves like a metal, making it difficult for even chemists to classify.
While it's so rare that it's almost non-existent — and so disconcerting that we basically know nothing about it for sure — astatine turns out to have some pretty important practical uses. When the element decays, it emits α particles, radioactive particles formed from the combination of two protons and two neutrons. For many reasons, they are really effective in targeting cancer cells, in radiation therapy.
"Astatine is the Goldilocks of α emitters," said Mehran Makvandi, a radiologist at the University of Pennsylvania School of Medicine (USA) about astatine.
Goldilocks here is a concept named after a little girl in the children's story "The Three Bears". When tasting three different bowls of porridge, little Goldilocks liked the porridge to be neither too hot nor too cold, but just the right temperature.
To put it simply, astatine here possesses a sufficient 'strength'. It emits fewer α particles than other isotopes such as actinium-225. That makes astatine less potent, but in return it has an emission advantage.
Astatine has an extremely short half-life, meaning it won't last for a long time. Importantly, it only emits α particles – the least harmful of the different types of radiation.
If scientists can attach astatine isotopes to molecules that target cancer cells, they could create an anti-cancer treatment that can cut through cancer cell DNA. and leaves the surrounding tissue in a relatively normal state. Accordingly, no other potential cancer treatment can achieve the same targeted effect if astatine is used, according to Makvandi.
Of course, this method still has many barriers to development. First, researchers need to have the opportunity to study astatine directly. This is considered no easy task, as astatine is rare and unstable.
That may be why the element is still officially listed as having no biological role or use other than for research.
From another perspective, the fact that people do not understand astatine well can be considered a good thing. After all, if we knew it really mattered, we would probably need more than the 25 grams of astatine that exists on Earth.
Refer to IFL Science